Cradlepoint categorizes their products between branch, mobile and IoT solutions.
Branch products are designed for fixed, temporary and pop-up network sites. Cradlepoint branch routers provide industry-leading Gigabit-Class LTE, a pathway to 5G and high-performance wired connectivity combined with multiple ports of Ethernet connectivity and Wi-Fi access, and are perfect for developing failover to traditional ISP.  These include the E series, as well as the AER series of branch routers.
Mobile products are designed for in-vehicle and in the field networks. Cradlepoint NetCloud Service, delivered through wireless edge routers, unlocks the power of LTE and 5G connectivity - making it possible for field-based organizations and transit providers to connect vehicles and on-board IoT to critical applications and the cloud, everywhere they go. They are built to withstand extreme environments as well. Cradlepoint's IBR Series Mobile Routers are perfect for those on-the-go.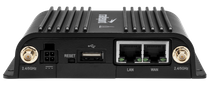 IoT products are designed for M2M, connected devices and smart cities. Companies and public sector entities are capitalizing on the value IoT can deliver through Wireless WAN connectivity. Cradlepoint helps organizations implement IoT solutions that are scableable, secure, reliable and easy to setup and manage.  The IBR series is a good option for this as well.